Trucking & Hauling Service: Bellingham, Mount Vernon, Arlington, Everett, Thurston, WA & the Surrounding Areas
Trucking
If you need a trucking service in Western Washington, Highline Pavement Maintenance offers to haul a variety of materials through our truck hauling service. We have a vast amount of expertise with residential, commercial, and government clients and a reputation spanning more than 28 years.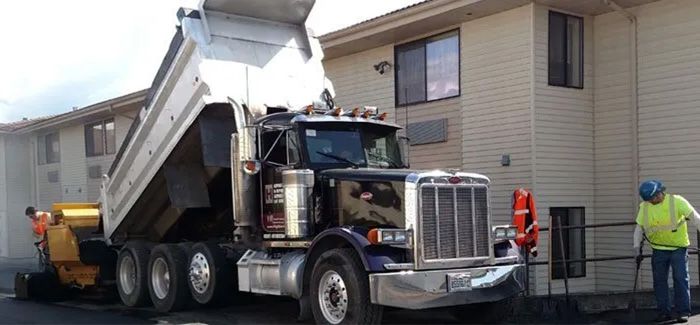 Trucking Service serving the Bellingham, Mount Vernon, Arlington, Everett, WA & the Surrounding Areas
Why Choose Highline Pavement Maintenance for Paving and Hauling?
Highline Pavement Maintenance provides expert local trucking services out of Mount Vernon, WA and surrounding areas. We have a great reputation throughout Western Washington state as asphalt and hauling contractors who put customer satisfaction first. We complete projects on time with quality and competitive pricing, and we look forward to talking to you about your trucking/hauling needs.
Contact a member of the Highline Pavement Maintenance team for a no-obligation quote. We're licensed and insured, established in Washington state, and have ongoing residential, commercial, and government contracts. Our clients trust us for quality, cost-effective, and reliable service, and we look forward to providing you with the same thing. No matter your trucking needs, we'd love to show you what we can do to ensure your satisfaction!
Quality Coating
Asphalt parking area....great installation, workmanship and quality coating product. Fair and reasonable price.
– Dale
Phenomenal
Phenomenal service! Andrew and Allen wee very thorough and considerate. Great communication regarding the project, positive attitudes and great customer service. Thank you for a job well done!
– Derrick H.
Fantastic Job
The crew did a fantastic job and were extra careful to not get the coating on our aggregate edging. We were very impressed!
– Gerald J.