Snow Removal: Bellingham, Mount Vernon, Arlington, Everett, Thurston, WA & the Surrounding Areas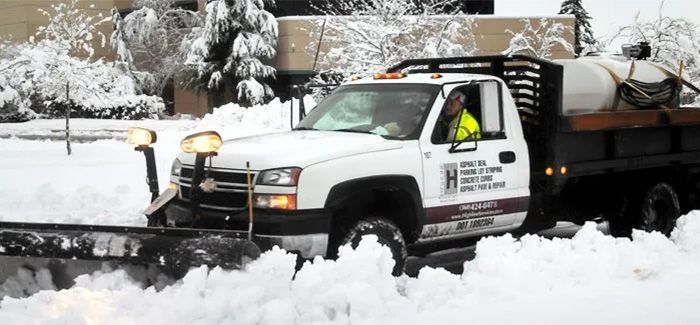 Snow Removal
Highline Pavement Maintenance provides quality and reliable snow removal services out of Mount Vernon, WA serving Skagit County commercial & government businesses.
Whether you want parking lot plowing or sidewalk clearing, Highline Pavement Maintenance has the equipment, the team, the infrastructure, and the solutions to achieve your snow removal goals in Western Washington. We can take care of the snow for you, leaving you free to carry on about your business, helping you avoid the pitfalls of harsh winter weather and how it can impact your business. Options can include plowing, ice removal, preemptive liquid deicer, and granule deicing of sidewalks and walkways. No matter your need, you can trust that we'll make your Washington winter a whole lot easier with our snow removal services.
Quick and reliable snow removal is essential, whether it's because you have employees, customers, or deliveries arriving at your location and we have the infrastructure in place to take care of your snow plowing and cleaning needs. Talk to us today for a no-obligation quote. We'd be happy to help you determine whether or not we're the Mount Vernon snow removal service company for your needs.
Mount Vernon and Skagit County Snow Removal Services: Why Choose Us?
For over two decades, Highline has been trusted by residential, commercial, and government clients who leverage our services for asphalt paving, asphalt repair, striping and marking services, sealcoating services, and a variety of other services. No matter your situation, we want you to know that you can rely on us to make sure the work is done the right way.
If you'd like to learn more about Mount Vernon snow removal and/or other services from Highline Pavement Maintenance, we invite you to contact us. Call us today to learn more about our company and what we can do for you. We offer FREE estimates and would be more than happy to discuss your needs
Quality Coating
Asphalt parking area....great installation, workmanship and quality coating product. Fair and reasonable price.
– Dale
Phenomenal
Phenomenal service! Andrew and Allen wee very thorough and considerate. Great communication regarding the project, positive attitudes and great customer service. Thank you for a job well done!
– Derrick H.
Fantastic Job
The crew did a fantastic job and were extra careful to not get the coating on our aggregate edging. We were very impressed!
– Gerald J.